A little while ago, I tweeted that I'd hit 30,000 words in the book I'm working on, and going to the dentist began looking better than sitting down to write.  Finding the right words was like beating my head against the wall.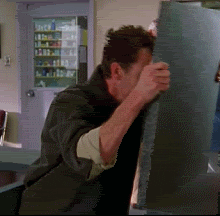 I'm now up to 37,000 words, and it's amazing how much difference reaching the actual middle of the book can make.  Ideas are picking up again.  Every writer's different, so someone out there must enjoy middles, but they're work for me.
I have friends who are pantsers, and they often tell me that when words don't flow for them, they know something's wrong with their manuscript, so they let the story stew for a while to find out how to put it back on track.  I get that.  But I'm a plotter, and I fight with my story structure before I start writing.  So when I glare at my computer screen and curse whatever I'm working on, I know it's just par for the course.
Now you'd think that wouldn't happen when I have ideas for every chapter, wouldn't you?  But the book still becomes a jumble in my head somewhere along the line.  Characters do things that aggravate me or don't do what I expected them to or don't turn out the way I wanted them to, and I pretty much don't like the entire thing by then.  And I've learned from experience, the only thing that works for me when I reach this point is to just keep writing.  With my plot points, I know I'm not going in the wrong direction and I'm making headway, so even if the words stink and the characters are flat, I can go back and fix them…once I like them again.
My sad truth is that there are days I love writing, and there are days I'd rather toss my keyboard in a lake.  The good days BY FAR outweigh the bad, but to get to more good stuff, I have to glue fanny in chair and keep going.  This does NOT work for some of my friends.  Their stuff just keeps getting worse if their brain is telling them something's wrong and they ignore it.  But for me, writing is as much of a discipline as a joy.  It's like exercise.  If I stop, it's hard to get started again.  So good or bad, it's better for me to slog through it.
And it never gets easier.  I thought it would, but there are rhythms to my writing.  The first fourth of a book is exciting–introducing characters and new ideas.  The second fourth starts strong and fizzles as it goes until I feel like a tortoise trying to make it to the actual middle.  The third fourth picks up when the protagonist digs in and gets serious about meeting her challenge, but by the end of that fourth, I feel like I've run an obstacle course… and the course won.  When I finally reach the last fourth, it's a race to the finish line.  I pick up speed as I go, and I might even like the book again.
I've gotten used to the love/hate relationship of each story, so when I loathe it, I know it's temporary.  And I write on.  I understand the writers who start lots of stories and never finish them.  The sparkle wears off.  The writing becomes sweat equity.  But it's part of writing a book.  So don't give up.  Don't despair.  Just keep at it.  And happy writing!